HOW DO YOU MANAGE TO KEEP STYLISH WITH YOUR BABYBUMP? WHAT DESIGNER OR BRAND DO YOU FIND FITS MORE YOUR BABYBUMP?
I've definitely had my struggles and went through a phase of feeling like nothing fit and I can't wear all the cute trends like cropped tops or high waisted jeans. But then I just forced myself to get over it and work with what I got! I found cute maternity jeans that made me feel normal and like I didn't have to wear leggings all the time. I recommend looking for trendy maternity jeans by Ingrid & Isabel, Jessica Simpson, H&M, Topshop or ASOS. I'm not huge on maternity clothes and all about finding clothes that will work without your bump. I love Free People for that reason! They have alot of comfortable flowy pieces. I do like tighter tops/camisoles under a cardigan for an easy go to look or you can never go wrong with an easy tight dress. I love Ingrid & Isabel's maternity dresses as my bump has gotten bigger and now that the weather is changing I love a good sweater dress.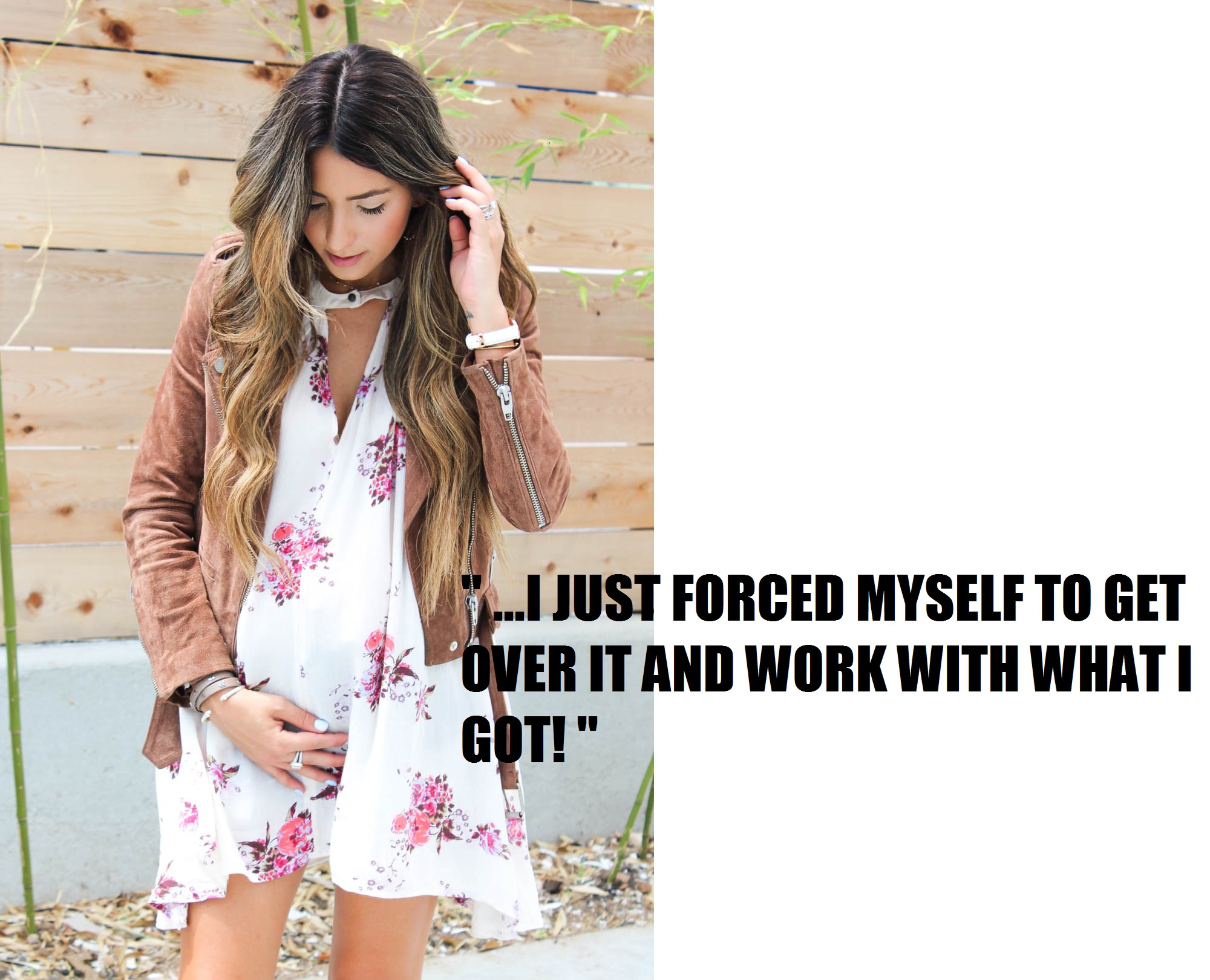 IF YOU HAD TO LIVE THE REST OF YOUR PREGNANCY WITH ONE OUTFIT, WHAT WOULD IT BE?
A sweater dress an over the knee boots!
HAVE YOU CHANGED YOUR LIFESTYLE OR SOME HABITS (FITNESS, HEALTHIER CHOICES, ETC.) DURING YOUR PREGNANCY?
Honestly not really, I've definitely gone through different phases in different trimesters.. 1st trimester I really cut out caffeine but slowly added back one cup of coffee a day. I also did not have much of an appetite during this trimester either. I thought I was going to workout this whole pregnancy but that didn't happen. I've been trying to walk as much as possible and just stay busy. I naturally gravitate towards fruits and smoothies as a snack so thankful for that!! First pregnancy, I ate donuts every morning!! Trying not to do that again… HA!

FOR OUR CONFESSIONS OF A PREGGO SEGMENT: WHAT PART OF YOUR PREGNANCY DO YOU FIND THE MOST DIFFICULT? WHAT'S YOUR BIGGEST CHALLENGE ON A DAILY BASIS?
Night time is the worst for me.. I'm very uncomfortable especially as my bump gets bigger. I have a hard time finding a comfortable position and tend to toss and turn. Also, heartburn and acid reflux have gotten horrible this time around and especially in this last trimester. Most of all though is keeping up with my toddler. As we get closer to baby day I've noticed him wanting more and more attention! I'm trying to cherish this last days with him as my only child but there are days when I'm just so exhausted and dying for a nap that I feel horrible not playing with him or trying to distract him with other things. Doing the best I can though and soaking it all in as much as I can!
Really enjoy a glass of wine.. but mostly I'm looking forward to being cleared to workout! Right before this pregnancy I had gotten really into working out and into a nice routine. SO I'm just ready to get back in a workout routine and excited to get my pre-baby body back!

CRAVINGS?
Honestly I haven't had any major cravings! I didn't have any specific cravings with my first either… even though I feel like I craved more Junk Food with him then with this baby.

GET SOCIAL WITH KAT JESSOGNE FROM AROUND TOWN BABE!